Hepatitis Prevention & Treatment Clinic (HPTC)
With the increased number of Hepatitis patients there was need to build the specific clinic which will be only for this disease. To overcome this complication PKLI (Pakistan Kidney and Liver institute)decided to build medical clinic in all existing Hospitals of the Province. The basic restraint was to deliver 12 Units in 100 days which was only possible in steel construction.
Basic Constraints
Hepatitis Prevention & Treatment program was launched by Specialized Healthcare & Medical Education department along with PKLI (Pakistan Kidney and Liver institute). The requirement was to setup filter clinic in all DHQs, the clinics were needed by end of 2017. Their constraint was to deliver 12 Units over 3200 SFT on EPC basis in 100 days .The building were spread out over the Province. The PKLI desired new HPTC clinics but needed it faster than the conventional construction.
Requirement
Timely Construction of all clinics (within 100 days)
Cost effective permanent medical clinics
Key Solution
Premium Engineering (Private) Limited provided the solution that steel construction with hot rolled and cold formed structural members could be done within scheduled timeline. Premium Engineering won the project in competitive Bidding from IDAP.
All buildings had to be designed from scratch keeping in mind the stringent requirements and time limitations of the client. Project consisting Eight HPTC in first phase, including HPTC DHQ Attock, HPTC DHQ Khushab, HPTC DHQ Hafizabad, HPTC DHQ Nankana Shaib, HPTC DHQ Pakpattan, HPTC DHQ Lodhran, HPTC DHQ Shujabad, and HPTC DHQ Vehari).
Through standardized manufacturing and construction processes, affordable Structures designed and installed a permanent single-story building in less than half of the time of conventional construction. Our designers arranged several meetings with the IDAP to devise a plan that met all expectations for quality, functionality and attractiveness.
The project was delivered in 100 days by using Hybrid system of steel construction with hot rolled and cold formed structural members. The project was pioneered in public sector now over 100 more clinics are planned.
Based on previous eight HPTC PKLI awarded three more projects (HPTC DHQ Jinnah Hospital Lahore, HPTC DHQ Mayo Hospital Lahore, HPTC DHQ Nishtar Hospital Multan) to Premium Engineering. These Projects are under construction and will be completed within timeline given by PKLI.
Scope Of Work
Architectural Design
Structural Design
MEP Design
Planning and Scheduling
Civil Work
Civil Work
Erection of Pre-Engineered Steel structure
Erection of Cold Formed Secondary Steel Members
Public Health and Safety
External Development
Finishing
Eight HPTC Sites has been completed with total Covered area of all HPTC is 25600 sft.
Project Key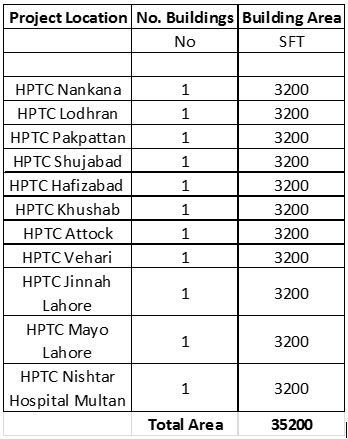 ---